Learn how to blog in 5 simple steps
UPDATE: This learn how to blog post was originally published on 1 October 2018 and updated on 1 March 2021.
If you have an inclination to add a blog to your business website, you've already taken the first step — knowing content is critical to your online success. Whether it's cooking videos, how-to blogs or behind-the-scenes Facebook posts, sharing a stream of original content online will reap big benefits for your small venture.
Once you learn how to blog, you'll be able to achieve a wide variety of goals, including:
Drive sales and leads.
Engage customers.
Build authority in your industry.
Increase traffic to your.
Boost SEO and organic rankings.
The act of creating content, however, isn't what drives these changes. Being intentional about topics, choosing the right blogging platform and optimizing content will allow you to align your business goals with content in a way that's both effective at driving sales and at increasing traffic.
Learn how to blog: The 5 steps
If you want to start a business blog, do it right the first time around. Follow these five steps to make sure your blog is set up for success.
1. Lay a solid foundation
Don't type anything yet. The first step in business blogging is not putting pen to paper — or fingers to your keyboard — it's laying a foundation for all your efforts moving forward. Start by choosing the best platform for your blog.
While there are many options available to you, WordPress is always my recommendation.
As the most popular content management system (CMS) in the world, WordPress gives you access to a seemingly unlimited amount of resources. A global community is always working on it, offering new plugins and themes all the time. If you don't know what something means, or how to set up a specific feature, a simple Google search will return hundreds of results, including forums, tutorials and videos.
Note that WordPress users have the option of a free or paid site:
Free — BobsBusinessBlog.WordPress.com
Paid — BobsBusinessBlog.com
As a business owner you should always register your domain with a registrar like GoDaddy. The company also offers Managed WordPress hosting, which makes WordPress easier to manage because they handle maintenance tasks like updates and security patches.
If you already own a website that's hosted on WordPress, you simply need to set up your blog, If you don't know how to do this, an in-house or freelance developer can do it for you.
If you're not using WordPress, I urge you to consider switching. As a business owner, their resources, plugins, integrations and partnerships with other big brands like WooCommerce will make your life much easier. You also want to avoid having a blog that's separate from your website, because your product or service pages miss out on all of that earned traffic.
Related: Can't-miss blog topics for hungry startups
2. Set yourself up for SEO success
Having great search engine optimization (SEO), is critical for every business blog. With the right cues in place, search engines will be able to easily find, rank and index your blog. So when people are searching for related topics, your site will show up.
Remember, one of the benefits of blogging is increased traffic to your website.
However, once you learn how to blog, simply writing posts isn't going to give you that bump in traffic. SEO must be the backbone of your blog and every post you publish.
This leads to another benefit of working with WordPress: plugins.
Plugins expand the functionality of your site, and in many cases, handle much of the heavy lifting so you don't have to learn the technical details yourself.
When it comes to SEO for your blog, the following plugins will make sure you're set up for success.
Google XML Sitemap
This is the first step to ensuring Google can find your blog. With your sitemap submitted, Google will be able to crawl your site regularly looking for fresh content to index (only indexed content can be found through Google).
Yoast SEO
This is a must-use plugin because it does all the technical optimization for you. You can use it for free, or pay for Premium for a number of extra features. When publishing, Yoast will also give you tips for optimizing each blog post so you can be sure it's ready to be found.
To install plugins, from the Plugins menu, go to Install New, and then select Upload Plugin. From here, you'll upload the folder you downloaded from the plugin's website or WordPress page.
3. Create valuable content
There's a lot that goes into creating content that your potential customers will find valuable, which comes in as a close second behind SEO in terms of its importance to business blogging. Here's what you need to know.
Post-level SEO
Valuable content starts with SEO keyword research, which will direct your content efforts and ensure your blog posts are found in search engines. Keywords are simply the words or phrases people type into Google when searching for a product or service like yours. Once you have a basic understanding how to blog, compile a list of keywords that relate to your business and the types of questions your customers have. For example, keywords for a natural home cleaning product blog might be:
Natural cleaning products
Organic cleaning products
DIY kitchen spray
Make your own cleaning spray
To get these keywords, simply think about what your business does and create a list of words you think customers are using to find you. Put these keywords into a tool like Moz or Google Keyword Tool to get a list of the highest-ranking (most searched) terms for those topics.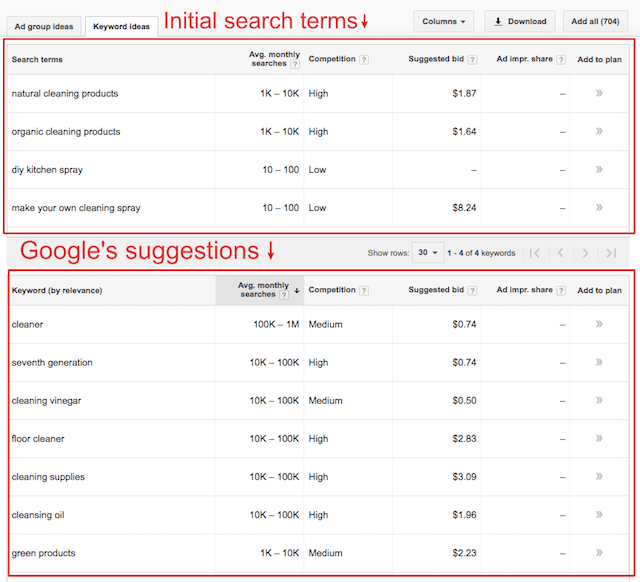 In this case, I might take take the keyword 'cleaning supplies' and turn it into a blog post titled Cleaning Supplies: 10 Reasons to Restock Your Cabinets. Do this for all the major keywords for your business, creating a variety of titles for each one. Eventually, you'll likely have 20 to 30 top keywords, with a few titles for each, to focus on as a starting point.
The final step as you learn how to blog is placing your keyword in all the right place within the blog post itself. This includes:
The URL
Toward the front of your headline (as you see I did above)
The first and last paragraph of the blog post
Sprinkled naturally throughout the content
At least one subhead
The meta description
The Yoast SEO plugin will tell you what you need to do to improve SEO on each individual post, so be sure to install it.
Content calendar
With your SEO research done, you can create a content calendar. This acts as a road map for publishing — which you can update each month, quarter or year — and should include article ideas for each month. This is an important part of learning how to blog because it makes it easy to know at-a-glance what's the next topic on the list.
Your content calendar acts as your roadmap for publishing blog posts.
To develop this important blogging tool, consider a variety of factors:
Seasonality — Would specific topics be best for summer or winter? For some businesses, this is very important. For others, it doesn't need to be considered.
Timeliness — Does your business relate to any major events or holidays? Plan content specific to those times of year to capitalize on the surge in interest.
Evergreen content — What can you create that's valuable all year long, and for many years to come? Sprinkle a few of these in each month. Learn more about evergreen content in Digital Marketing Institute's Beginner's Guide to Evergreen Content.
Competitors — What are your competitors talking about? What types of content are they creating? If they make infographics that always get a lot of clicks and shares, perhaps you need to add infographics to your content calendar.
Put all of this information into a calendar, which might look something like the screenshot below. Notice the tabs — the content calendar is for a six-month period, so each one is in its own tab for organization's sake — and each month is outlined above.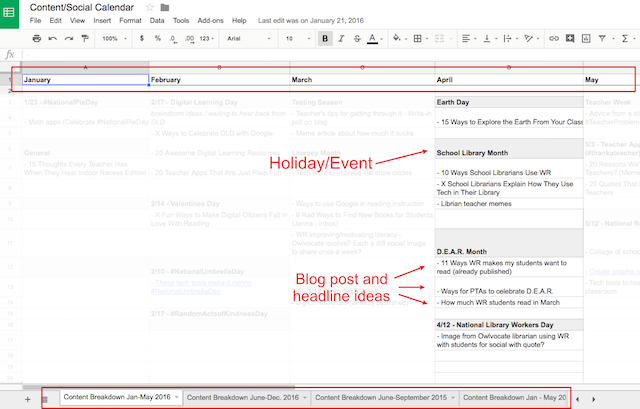 Publishing cadence
The next step is to determine how often you'll publish blog posts. An analysis from Hubspot found one simple truth — the more you publish, the more your traffic grows:
"Companies that published 16+ blog posts per month got almost 3.5X more traffic than companies that published between 0-4 monthly posts."
Before you go publishing every blog post you can possibly squeeze out, remember two important details:
Quality always wins over quantity. Producing 16 half-baked blog posts each month won't likely result in a huge jump in traffic because Google will see that the content as not valuable.
Your goals are of utmost importance. If your goal is to drive traffic, then yes, focus on producing a large volume of great content. However, if your aim is to drive high-quality leads that will turn into customers, it would be smarter to publish fewer pieces and focus on creating and marketing the ones that are converting your visitors.
Blog post formatting
The final step in learning how to blog successfully is formatting your posts to encourage people to stay on the page, share your content and engage with your business. Here are a few guidelines to keep in mind:
Make it easy to read — Blog posts should be scannable, meaning people can read and digest them quickly and with ease. To do this, use bullets whenever possible and add subheads to organize the content.
Be social — Social sharing options should be easy to find. Use a tool like Shareaholic to add floating social sharing buttons to each blog post.
Avoid density — Paragraphs should be short, with images and videos to break up the content. Include images that add value to your content, like charts, graphs and impactful imagery.
Note that you can't use just any photo you find online, most of which are not available for free in the public domain. There are a wide variety of websites that offer photos for free, including Unsplash and Pixabay.
4. Promote, promote, promote
Once the content is created, it's time to promote it to your various audiences.
If you're putting time into creating blog posts, you want to make sure they're seen!
Share each new blog post on your social platforms (Facebook, Twitter, Instagram, Pinterest, etc.) and don't forget to send emails at least once a month so your customers and subscribers know it's there.
You can use a free social scheduling tool like Hootsuite to set up all your shares for the week, rather than posting each one individually — which is both time-consuming and unnecessary. Just be sure to check in throughout the week and engage with followers who are commenting and sharing.
5. Analyze your efforts
Finally, spend time each month or quarter analyzing what worked and what didn't. This starts with by creating a Google Analytics (GA) account and following the prompts. Then, connect your blog to the account — the Yoast SEO plugin helps you do this, or you can use a number of other plugin options like Google Analytics Dashboard.
Once installed, you'll be able to see everything from overall traffic to which sources are driving the most visitors, which blog posts are converting the most readers into customers and much more.
If you're new to GA, use this guide from MOZ to learn more about what you see and how to analyze the data. The stats you'll want to track will depend on your goals, and might include:
Total traffic
Total organic traffic (i.e. traffic you don't have to pay for)
Time on page
Top traffic sources
Most visited blog posts
Keep this data in a living spreadsheet; I like to use Google Sheets, so it can be updated and shared with others on a regular basis. Use the information you find to guide your content calendar plans, repeating what's worked and eliminating what didn't.
Get started today
Once you learn how to blog, you'll be anxious to get started. Sign up with WordPress and set up hosting, if you don't already have a hosted WordPress site. Build your foundation and create a plan to start producing high-quality content that drives leads, boosts your brand and increases overall traffic. Soon, you'll be a blogging pro, with a great new tool to boost your business.
Image by: Gem & Lauris [A Place for Creation] on Unsplash