hemanthbitra
New
I had purchased a  .in domain for that they provided Free Email forwarding with domain
While configure Workspace Email in account settings
Getting error as shown in the image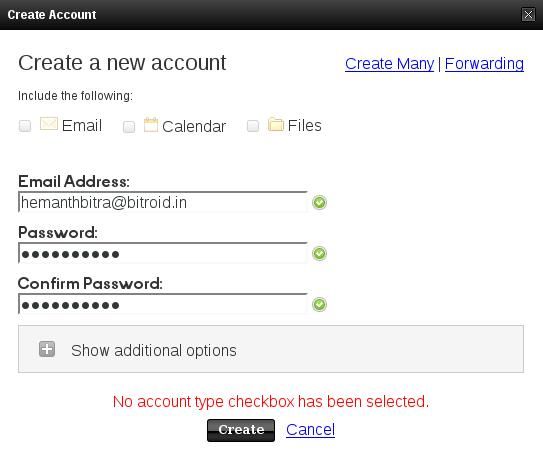 And I am unable select Email or Calender or Files checkbox
2 ACCEPTED SOLUTIONS
ML
Moderator
Solution
Hi @lme07, @saltymountain, @issammali, @Rishiv, and @bbeck500,
If you are seeing the same issues as @Hemanth is seeing in the screenshot, it appears to be because you are attempting to set up a normal Workspace Email address, not a forwarding one.  The original question looks to have to do with a free forwarding credit, which would create an address that just forwards to another one that you specify.
In order to create those, you'd want to click on "Create Forward" not on "Create" in your Workspace Control Center.
Hope that helps.
CG
Moderator
Solution
Hey @ahajjaj, 
The marked solution was to address the original issue mentioned at the beginning of this thread, which was how to correctly setup an "Email Forwarding" account. If that is what you are attempting to do, then that is the correct solution. 
However, if you are trying to setup a regular Workspace email account (which can send and receive messages without forwarding to another address), then the correct method to setup the address will be here. Keep in mind that you have to have active credits available in your account or else the option to select email as the account type will be grayed out as indicated in the first post. Workspace Credits are only given with some of our shared hosting plans. 
If you're trying to setup free Office 365 credits like @anything, then you should use the steps here instead. If there is any difficulty in completing the setup with any of these instructions then please reach out to our live support team so they can assist directly. We have 24/7 phone and live chat (Mon-Fri 5AM-6PM UTC-7) teams who are more than happy to help you get started. 
CG - GoDaddy | Community Moderator
24/7 support available at
x.co/247support