Hi,
I have been using GoDaddy Shared Hosting for more than 2 years now. Our sites are developed in ASP.NET with SQL Server. We deploy these websites on Godaddy using the Web Deploy Feature.
Web Deploy stopped working about 10 days back on all my sites. They all have the same IP Address.
I called support, but the support team has no clue of what Web Deploy is and I was asked to open my browser and check if web deploy is working. Called a couple of more times but similar result, with support telling me that the problem is at my end and everything works fine on their server.
I have mostly had a good experience with support, but this time when I asked for an escalation email or to transfer to his tech lead, the support rep told me he doesn't have this information and to search on Google. Lol. Sure maybe you should fire all your support people if we could all search of google for tech support solutions.
I wish I could raise a ticket online, instead of speaking to fresh recruits who are still learning. So I tweeted this issue to godaddy, but I did not get any satisfactory response. The web deploy was not working for over 2 days so I gave up. I created new FTP profiles and published the pages using that.
Today, about 10 days later, when typing this post, I though I will create some more screenshots of the error and voila the web deploy worked. The error is no longer there.
So my question is
1. When did the Web Deploy issue get resolved?
2. Is there be a mechanism to tag users who have raised this issue, so we get to know that the error is fixed.
3. During my support call, I shared this link, which explains the same issue and resolution, with the customer support but I don't think he shared it with the backend team 
https://stackoverflow.com/questions/6939150/web-deployment-task-build-failed
4. And can the customer support team raise a ticket upstream to more technically qualified teams who can look at the server logs and reply to customers with the log as to the reason why web deploy is not working, rather than a boilerplate reply that "The problem is not on Godaddy server, but its on your end".
I wasn't sure whom to send this so posting it here. All customers want is a definitive fact based reply to support requests, rather than washing their hands off the issue by saying its not their fault.
Sharing screenshots of how web deploy works, in case the the admin here is also not sure what it is 😄 😄
I have downloaded the Web Deploy profile file from Godaddy here.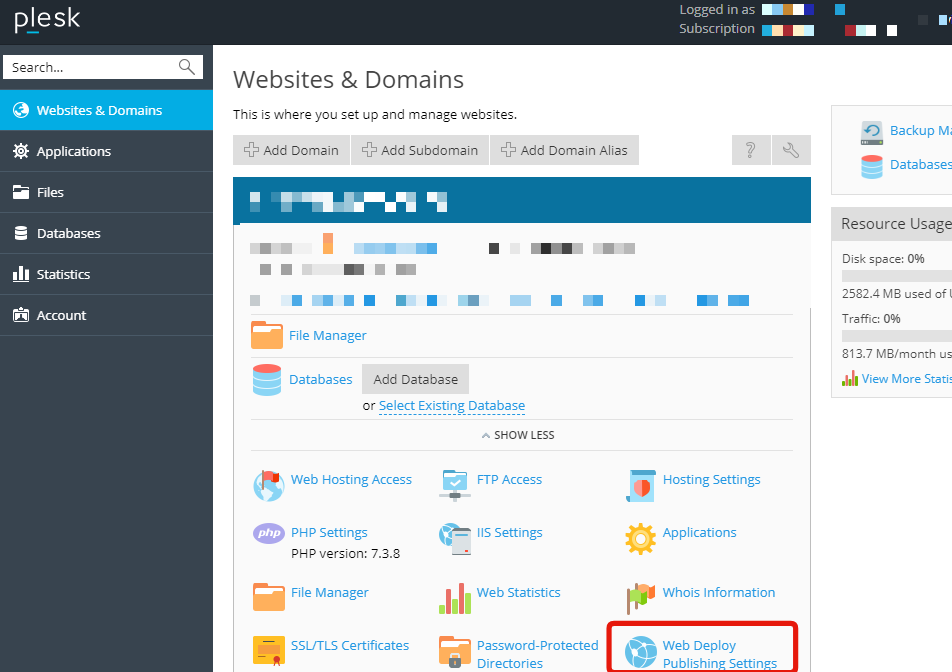 I imported this into visual studio 2017 here.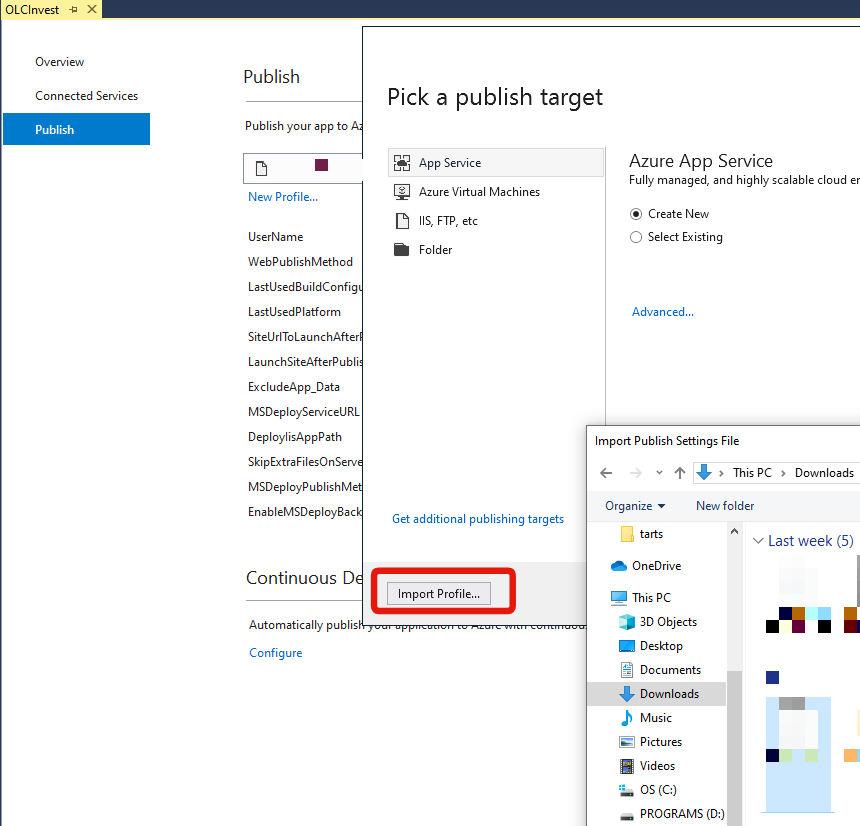 This was working fine for 2+ years, then only stopped working 10 days back . I even deleted the profile and imported again. Same result.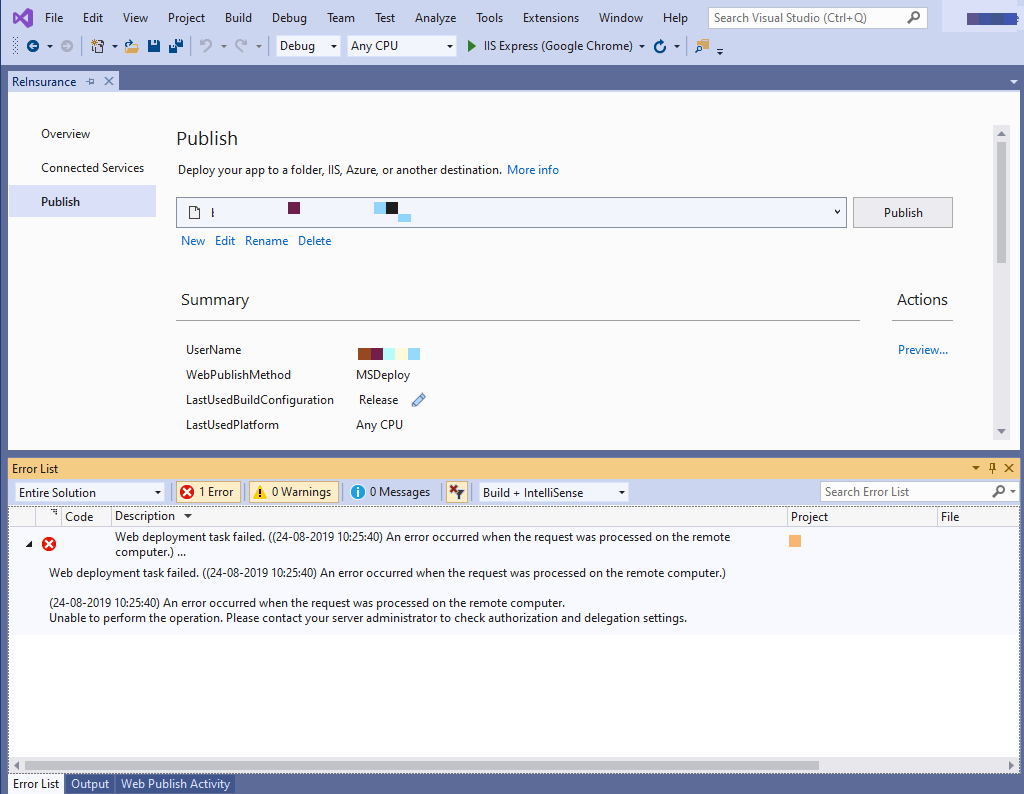 Thanks
Avinash Tauro
JesseW
Community Manager
Solution
Hi @avinashtauro. Thanks for posting. The web deploy issue was also discussed in this thread. As you can read there, our Plesk team made some changes yesterday to try to repair the issue. Glad to hear it's working for you. Sorry for any inconvenience
As for your other questions, there isn't an automatic way to tag users that had this issue. You'd need to search the forums for others reporting something similar. Then you can use the @ mention feature (like I used above). Our customer care team can and should pass along issues that can be demonstrated as a problem with the hosting environment. In the future, if you think you've found such an issue, it's best to get in touch with our hosting support. They would be best qualified to read through any 3rd party documentation and see if it applies to our environment. If you did so but no escalation was created, I again apologize. 
JesseW - GoDaddy | Community Manager
| 24/7 support available at
x.co/247support
| Remember to choose a solution and give kudos.
Re: Web Deploy has stopped working on my Share Hosting Plesk
Hi JesseW,
Thank you for the update. I just discovered this community and read the other thread on this issue which was very helpful. I will use this community in future for such issues.
Unfortunately my grouse remains that local customer support quality needs accountability. There is no easy way to escalate complex tech issues like web deploy. Its a surprise that neither the support person not the backend tech team know what web deploy is or how to check for the issue.
Also when the support call is successful, they will always share a feedback link and ask me to give a feedback. If not there is no link as we have to tweet our disappointment.
The support process has to be improved, and customer support should be held responsible for terminating valid support calls without resolution or escalation. And I should be able to give feedback after every support call.
Thanks Again for your timely help
Avinash Tauro
Re: Web Deploy has stopped working on my Share Hosting Plesk