Reach customers everywhere that matters.
No matter where they are, Digital Marketing Suite has the tools to make sure your customers stay connected and engaged with your business.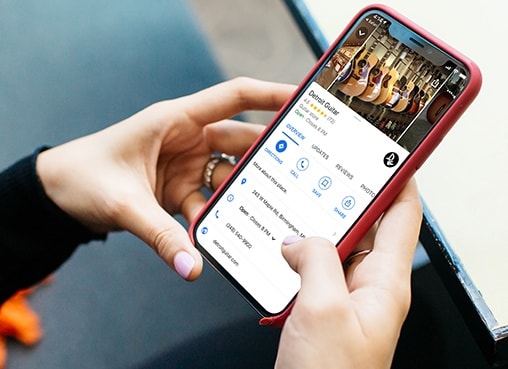 Put your business on the map.

We made it simple to create and manage business listings on Google Maps so you can get a lot more face-time with your customers.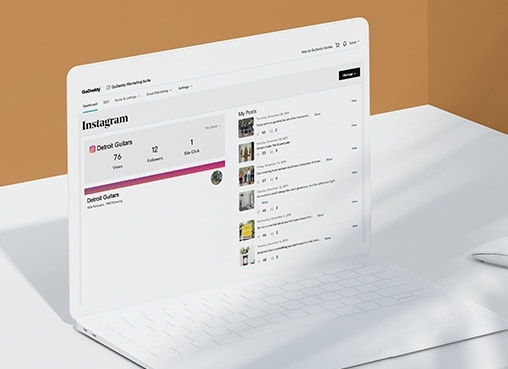 Give your business a social life.

Some folks
the Gram. Others really
Facebook. But as a business, you can't play favorites, so we've made it effortless to manage both from one single dashboard.
Get the message across.

Engage your customers and keep them up to date on how to stay connected to your business with email marketing campaigns.
Everything you need to be everywhere you want.
From email campaigns to to business listings, Digital Marketing Suite has everything your business needs to keep customers informed and engaged.
Engage customers with email marketing.
Creating and sending email marketing campaigns is one of the most impactful ways to keep your customers informed on all the happenings with your business. Our email marketing service offers helpful stats to show you how many people open, read and share your emails. You can even compare your emails side-by-side to see which ones get the best response, helping you tailor future email content to best resonate with your audience.
Build and keep a 5-star reputation.
Customer ratings and reviews can make or break a new business, but monitoring and responding to every comment is a full-time job. With Digital Marketing Suite, you can create and connect your Facebook and Google listings all in one place. And when a new review is submitted, you not only get notified, you're able to read and respond to it right from your dashboard, so you can maintain your stellar reputation without jumping from site to site.
Manage everything from one spot.
With Digital Marketing Suite, everything you need is in one place. Optimize your site for Google, post your latest offer on Facebook or Instagram, respond to customer reviews, even create and send marketing emails — all without ever leaving your account. And if you're just getting started, Digital Marketing Suite can even create a Facebook page or Google business listing for you.
Market your business online like a pro.
Use the web to drive more traffic to your front door or your existing website.
Create your site, then build a buzz.
Get our brilliant, easy-to-use website builder + our Digital Marketing Suite.
Help that's never been more timely.
Our GoDaddy Guides are working from home, ready to help you stay open for business with answers and advise 24/7/365. Call anytime. (02) 8042 8920.
Digital Marketing Frequently Asked Questions
What is Digital Marketing?

Simply put, digital marketing is any type of marketing that's done online. Of course, that covers a lot of ground, but it can be narrowed down to five major areas — Search Engine Optimization (more commonly known as SEO), Paid Search, Email Marketing, Social Media Marketing and Business Listings — which we cover in detail below. The main thing to know about Digital Marketing is that, when done right, it can deliver incredible results at a fraction of the price of traditional marketing. 

Our Digital Marketing Suite gives you one place to manage all of these major areas, so you can spend less time figuring out different platforms and jumping from site to site and more time getting results and focusing on your customers.

What is SEO?

As mentioned above, SEO stands for Search Engine Optimization, which is exactly what it sounds like — optimizing your site for search engines so you get the highest rank possible. This involves everything from technical elements like header tags and alt text to simply writing good content that is useful to your users. Most midsize to large companies have individuals (or even entire departments) dedicated to SEO, but smaller companies need to rely on other methods in order to compete. 

Our Digital Marketing Suite includes

SEO tools

that anyone can use, even if you don't know the first thing about websites. Just answer some question about your business and our SEO tools will make technical changes behind the scenes, as well as give you direction on what you can do to improve your SEO through your content.

What is Paid Search?

Paid Search is the flip side of SEO. While SEO is focused on "organic" search results — those that occur due to a site's relevance, structure, etc. — Paid Search are the ads you see on the above, below and to the right of organic search results. Like SEO, Paid Search cannot be easily explained in a short paragraph. To do it manually would require deep understanding of effective keywords, the competitive landscape and countless other factors. 

What is Email Marketing?

Email marketing is, of course, marketing your business by sending emails to new and prospective customers. While the overall concept couldn't be much simpler, there are a lot of methods, best practices and even federal laws relating to email marketing. 

The email marketing component of our Digital Marketing Suites guides you through every step, from building your mailing list to creating a beautiful email to analyzing the results. Most importantly, it ensures that everything you do is within the law, so you won't be labeled a spammer.

What is Social Media Marketing?

Chances are you're already doing some Social Media Marketing. Anytime you post about your business on social media, you're marketing it. It's very straightforward, but it's also very time consuming. Shifting from one platform to the next to make sure you're showing up everywhere you need to be is a full-time job.  

Digital Marketing Suite solves this issue by giving you a single dashboard to manage your profiles on Facebook and Instagram, as well as address customer comments and reviews on Google's Business Listing. The same dashboard even includes your SEO controls, so you can manage all of your digital marketing efforts from one place.

What are Business Listings?

The most overlooked area of digital marketing, Business Listings are what show up when customers look for you on Google Maps, as well as other sites. These listings are often created automatically, which means the information is pulled from whatever records are available. The result is listings that often have missing or incorrect information, like an old address or phone number.  

With our Digital Marketing Suite, you're in control of what information is displayed, so you can always be sure that it's complete and up to date. Better yet, when you create or update your Business Listing in Digital Marketing Suite, your information is automatically applied to multiple sites, so you save a ton of time and your customers always find the right info.